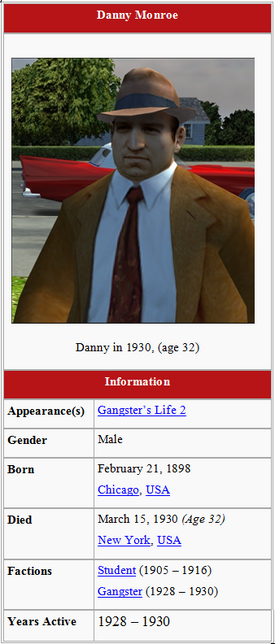 Michael Jensen (February 21, 1898 - March 15, 1930) was an American gangster who was active in the period from 1928 to his death in 1930. He was born to a poor family.
Early Life (1898 - 1928)
Edit
Michael was born on March 11, 1898 in New York. He went to school from 1906 - 1916.
Career (1928 - 1930)
Edit
He started his career in 1928. In 1930, he was given a mission from Frank to kill John and Marilyn. He did it succesfully with the help of Michael Jensen, but later that day they both were killed by Jimmy.
Ad blocker interference detected!
Wikia is a free-to-use site that makes money from advertising. We have a modified experience for viewers using ad blockers

Wikia is not accessible if you've made further modifications. Remove the custom ad blocker rule(s) and the page will load as expected.